New Zealand is an independent island state in the Southwest Pacific. Wellington is the capital and the largest city in New Zealand.
Total Area: 268,021 square kilometers 
Population: 4.794 million
Language: English 
New Zealand Map
New Zealand - also known as Aotearoa New Zealand - consists of two large islands (North and South Island) and several small islands (such as Stewart and Chatham Islands). It lies in the Southwest Pacific between 34 and 47 degrees south latitude. The interplay of terrain, climate, rock type and vegetation creates more than a hundred different types of soil. These can be divided into three broad categories: pumice stone soils (in the volcanic area of the central North Island), limestone soils often in Taranaki, Waikato, parts of the northern and southern regions) and sedimentary soils in the main islands are plains, hilly areas and coastal areas.
Political Map of New Zealand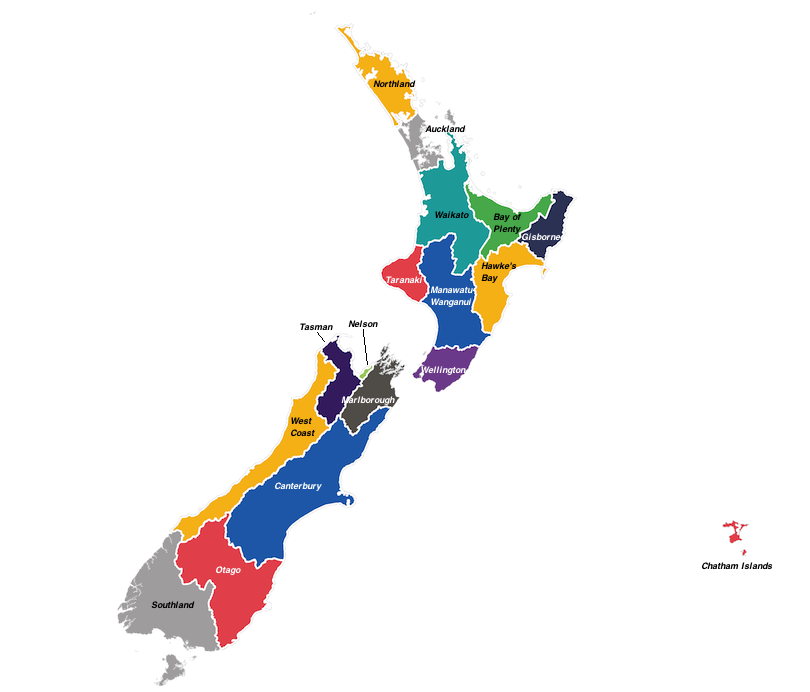 On political map, you can see the country is situated in southwestern Australia in the South Pacific. The organizational partitions of the country are shown in different colors in the political landscape of New Zealand. New Zealand is made up of two large islands, the North Island and the South Island, and is an incredible discovery destination.
Travel Information Map
The island nation is full of unforgettable landscapes, great views and incomparable lakes, mountains and lush vegetation that really need to be understood. Most of the island is densely forested and undeveloped, more than 80% of the island is protected by the Rakiura National Park, and so you can explore the wild nature of New Zealand. At the tip of the South Island is Nelson, a place known for having the most sunshine in New Zealand every year. The unique climate and the fact that the city is surrounded by three national parks make Nelson an ideal place for outdoor recreation.