Mozambique is a country in East Africa. The capital and the largest city of Mozambique is Maputo.
Total Area: 801,590 km?2;
Population: 29.67 million
Language: Portuguese
Mozambique Map
On map, Mozambique is a country located on the east coast of Africa, which is connected to South Africa, Swaziland, Zimbabwe, Zambia, Malawi and Tanzania. The vast coastal plains occupy almost half of the country's land, with 18.8 million inhabitants. The coastal field has been widely used for agriculture, but it is an important spring destination for immigrants. The mountains are located to the west and north, the peak is Monte Banga at an altitude of 2436 meters. In Africa, the two main rivers, the Zambezi and the Limpopo River, pass through the country, while the Kabula Barsa Dam is located in the east.
Mozambique Channel Map
The Mozambique Channel is located within the Indian Ocean, between the African continent and Madagascar Island. In the Mozambique Strait, ocean currents often form an anti-cyclone system, but sometimes they actually travel south to the Agulhas streams off the coast of Africa. This area is an earthquake-prone area and is considered to be a maritime extension of the eastern branch of the Great Rift Valley in East Africa. The strait Mozambique is the narrowest, only 250 miles (400 km) from the African continent Mozambique to Madagascar.
Political Map of Mozambique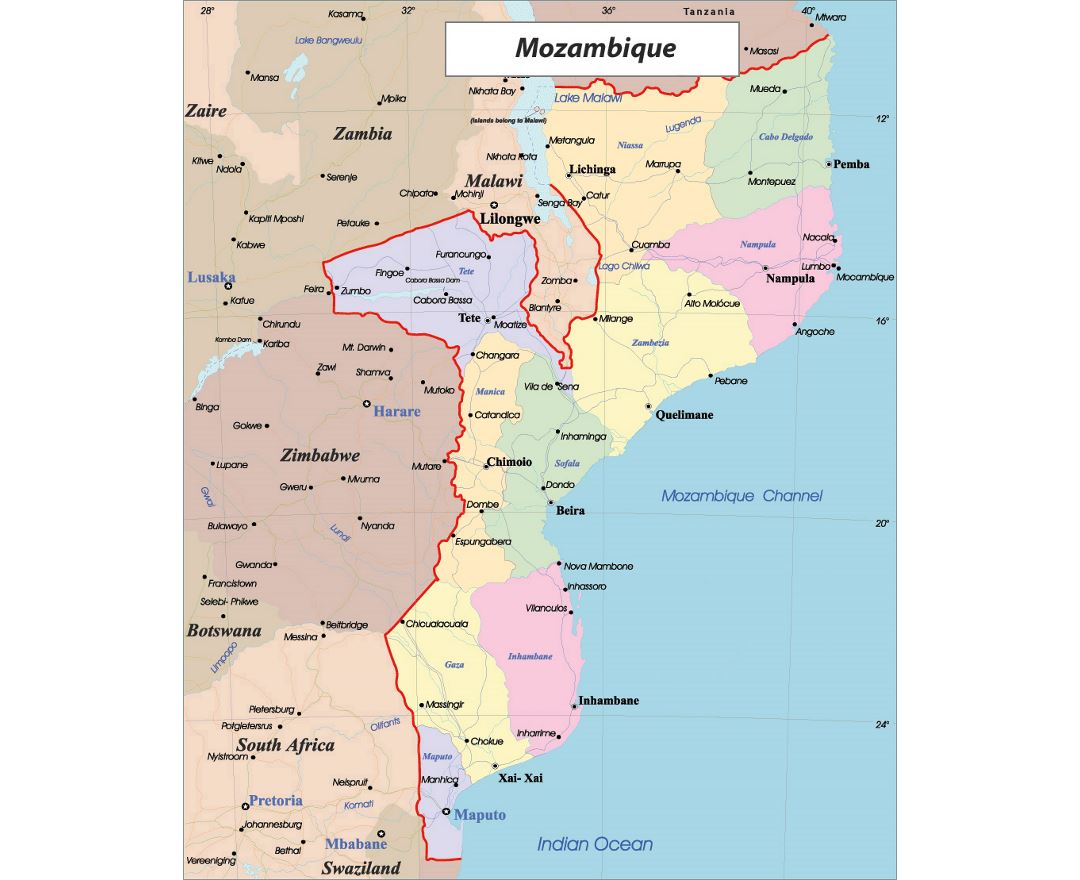 As you can see the political map, you will know about the major cities, states which lies in Mozambique.
Travel Information Map
The best place to visit in Mozambique are: Machilla Magic, A variety of local handicrafts and works of art are sold here. It creates African cultural sites. The Inhaca Islands have breathtaking and peaceful beaches. People can take the ferry and admire the view. You can also swim, relax on the beach and enjoy the view, and even walk along the beach. There are also restaurants on the island where you can indulge in delicious cuisine. It is one of the best attractions in Maputo Mozambique.