Malaysia, it is a country in Asia. The capital of Malaysia is Kuala Lumpur.
Total Area: 330,803 km?2;
Population: 31.62 million
Language: Malay
Malaysia Map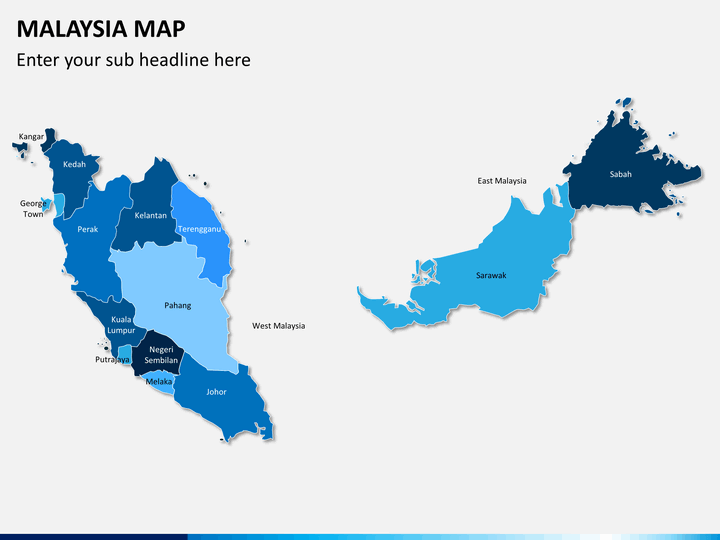 The Malaysian state consists of the peninsular Malaysia, part of the Southeast Asian Peninsula, and the states of Sabah and Sarawak (eastern Malaysia) on the northern edge of Borneo. In essence, the coastal plains here (quite broad in some areas) gently protrude into the hills and mountains, which are all covered by dense rainforest. Nationally, the average altitude is between 3500 and 6,000 feet, with the exception of the highest point of Malaysia, the mountain. Kinabalu, 13,451 feet (4,100 m) in Sabah. The lowest point in the country is the South China Sea, 0 meters away. There are hundreds of very small islands off the coast of Malaysia (small dots on the blue ocean). Numerous caves that extend along the peninsula are carved out of water-etched limestone, and the Muru Cave in East Malaysia is the largest cave in the world. More than twenty rivers flow from the mountains, of which Pahang, Rajangbang and Sugut are the most important. There are only two natural lakes in Malaysia: Lake Beira and Tasikini Lake.
Political Map of Malaysia
The political map shows the borders, rivers and states. Malaysia is a Southeast Asian country bordering Thailand, Indonesia and Brunei. Malaysia also shares the maritime borders with Singapore, Vietnam and the Philippines.
Travel Information Map
Malaysia is the crown jewel of Southeast Asia, it is connected to the Malacca Strait and can meet the islands of Indonesia and the Java Sea. This small archipelago consists of two main islands: Perhentian Kecil ("small") and Perhentian Besar ("large"). Kecil is popular with young backpackers, while Besar's lodging standards are slightly higher, attracting many families. Malakka occupies an important position on the busy sea routes between India and China: on the southwest coast of Malaysia, Malacca has been ruling and fighting for centuries among the governments of India, Portugal, the United Kingdom and the Netherlands.