Liechtenstein, it is a country in Europe. The capital of Liechtenstein is Vaduz.
Total Area: 160 km?2;
Population: 38,547
Liechtenstein Map
Liechtenstein, the Western European Principality, lies between Switzerland and Austria. Two-thirds of the eastern region of the country are the foothills of the Rhätikongebirges in the Central Alps. The highest peak is Grauspitz, which rises to 2,599 meters, and most of the Principality is over 1,800 meters above sea level. The lower slopes of the mountains are covered with evergreen forests and alpine flowers, while the bare peaks are covered with snow. These mountains consist of three large valleys and are drained from the Samina River. The western part of the Principality is dominated by the floodplains of the Rhine, which together with the Valley of Diseases form a triangular lowland extending to the north. The valley was once a swamp, but the drainage channels built in the 1930s made the rich soil ideal for agricultural production.
Political Map of Liechtenstein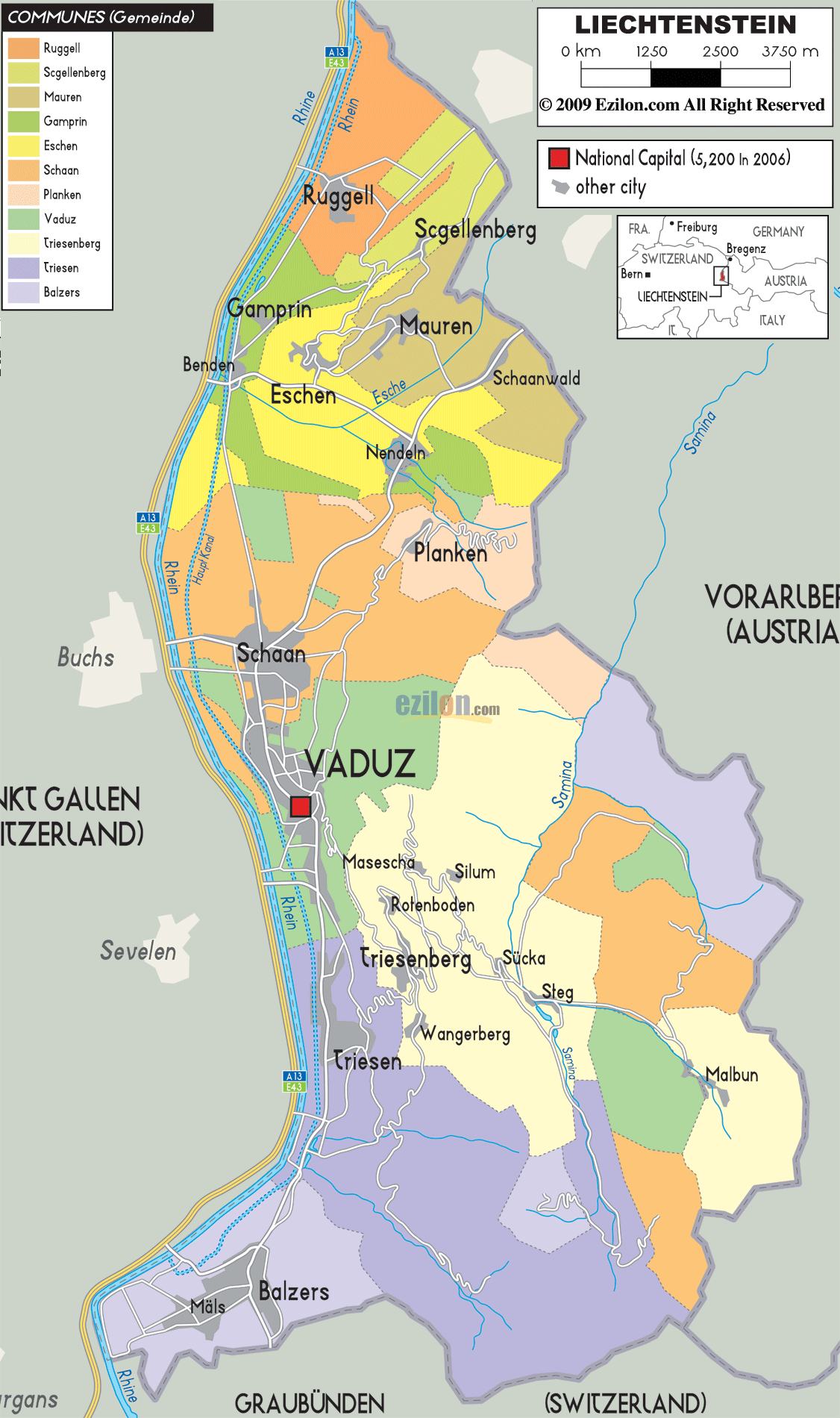 Liechtenstein's political map represents the country's international borders as well as internal administrative divisions, national capitals and states. Liechtenstein is a double landlocked country in the European Alps in the Upper Rhine Valley and Central Europe. The political map of Liechtenstein shows all the political differences in the country as well as the international borders. The country borders on Austria to the east and Switzerland to the south. For administrative reasons, the country is divided into 11 municipalities, which consist of a town or a village. These are also reflected in the political map of Liechtenstein.
Travel Information Map Of Liechtenstein
Liechtenstein lies between Switzerland and Austria and has a long history, culture and dramatic backdrop. Breathtaking castles, historic sites, royal heritage and untouched nature await those visiting this alpine state. Built in the 12th century, the castle overlooks Vaduz, the capital of Liechtenstein named after the castle. The Hofkellerei is the exquisite wine cellar of the Prince of Liechtenstein. Liechtenstein does not immediately think of good wines, but in the Hofkellerei visitors can taste Liechtenstein's award-winning quality wines.