Kazakhstan is a country in Central Asia. The capital of Kazakhstan is Nur-Sultan.
Total Area: 2.725 million km?2;
Population: 18.04 million
Language: Kazakh
Kazakhstan Map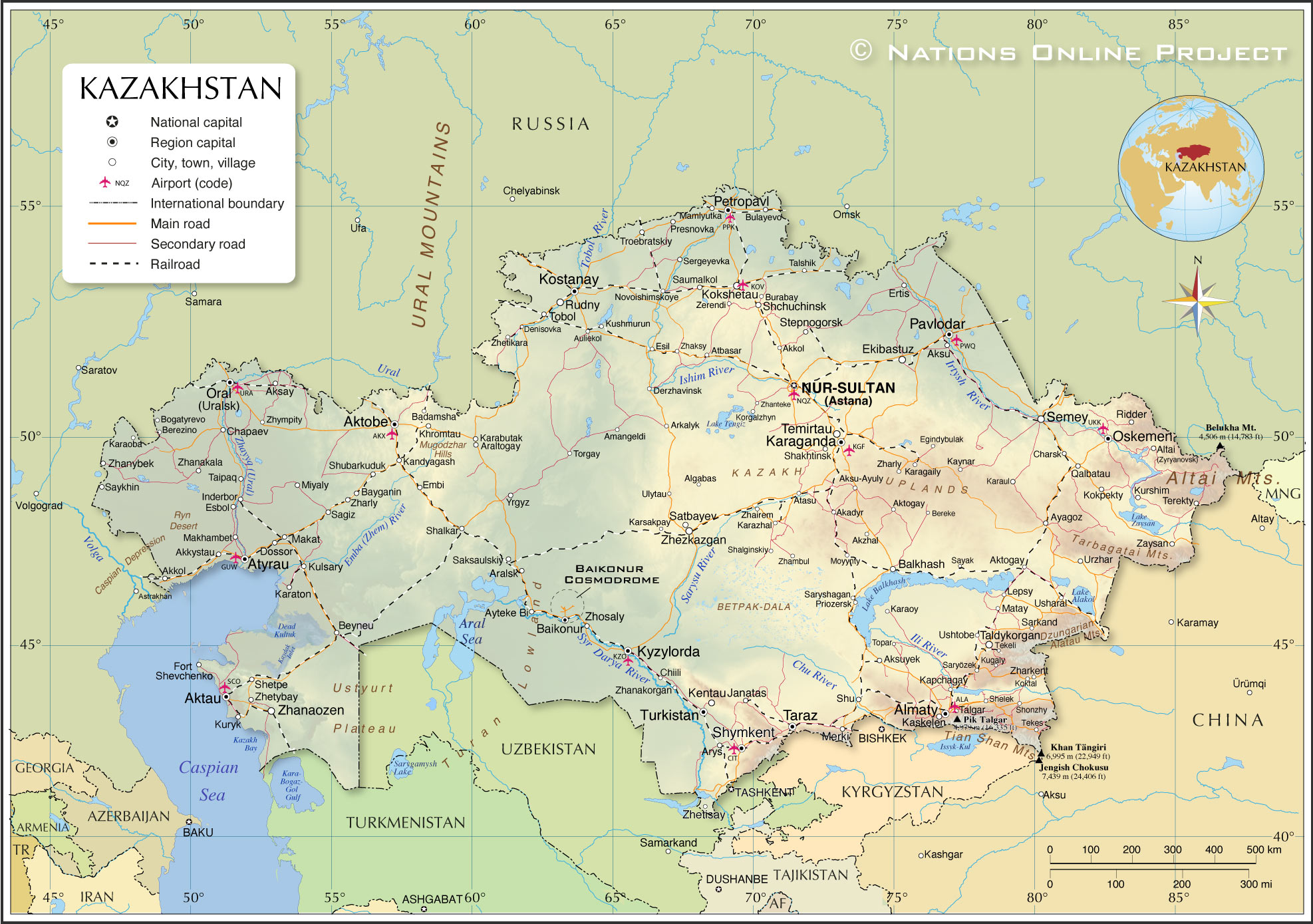 Kazakhstan is mountainous at its extreme east and southeastern borders, and most of the year's dense forested Altai and Tianshan Mountains are still snow-capped, with many peaks more than 6,500 feet high. The highest peak of Kazakhstan is the Khan Tengri with 6,995 m. Just over 70% of the country is eroded lowlands, dry or semi-desert deserts of grasslands and sandy land. The very dry grassland of Kyrgyzstan (or Kazakhstan) covers an area of 800,000 square kilometers and is the largest plane in the world. The weather in the dunes is often bad and the country is very windy. At the margins of the interior of the Caspian Sea land some areas below the sea level. On the western border with the Russian Federation, gentle meadows and forests dominate. The most important rivers are the rivers Ischim, Itusch, Sir Deira, Tobol and Ural. The Caspian and Aral Sea, Arakal, Barkash, Tungis and Zaisans are the largest waters.
Astana Map
Astana is the city of Kazakhstan. The city is located on the river Ischim in the north of Kazakhstan and is flat and semi-arid Astana is the second coldest city in the world after Ulan Bator.
Political Map of Kazakhstan
On the political map of Kazakhstan, international borders, major cities and national capitals are marked with specific symbols.
Places to visit in Kazakhstan
The beautiful capital of Kazakhstan is a living example of a modern country and shows the most popular tourist attractions of Kazakhstan. This 40-year-old city overlooking the Caspian Sea is a fascinating beauty and one of the most peaceful places in Kazakhstan. In Aktau you can visit some rare Kazakh tourist attractions and other ensembles of ancient architecture. Old cultural centers, concert halls, cinemas and libraries spread throughout the city, so it is necessary to explore the local atmosphere of the city.