Guinea, a West African country, lies on the Atlantic coast. Conakry is the capital of Guinea.
Total Area: 245,857 mm
Population: 12.72 million
Language: French
New Guinea Map
Guinea is divided into four major geomorphic regions, including the coastal lowlands, the Guinea highlands and the mountainous central core, the eastern steppe and the forest jungle areas in the extreme southeast. The mountains of the country (extending from northwest to southeast) are the source of the Niger, Gambia and Senegal rivers, as well as the numerous rivers that flow into the sea on the west side of the mountains that lead into the coasts of Sierra Leone and the Ivory Coast, The Niger is the third largest river in Africa and covers 4,180 kilometers. Its source is in the highlands of Guinea in the southeast of Guinea. Guinea's highest point is Mont Nimba (1,752 m), the deepest Atlantic Ocean.
Papua New Guinea Map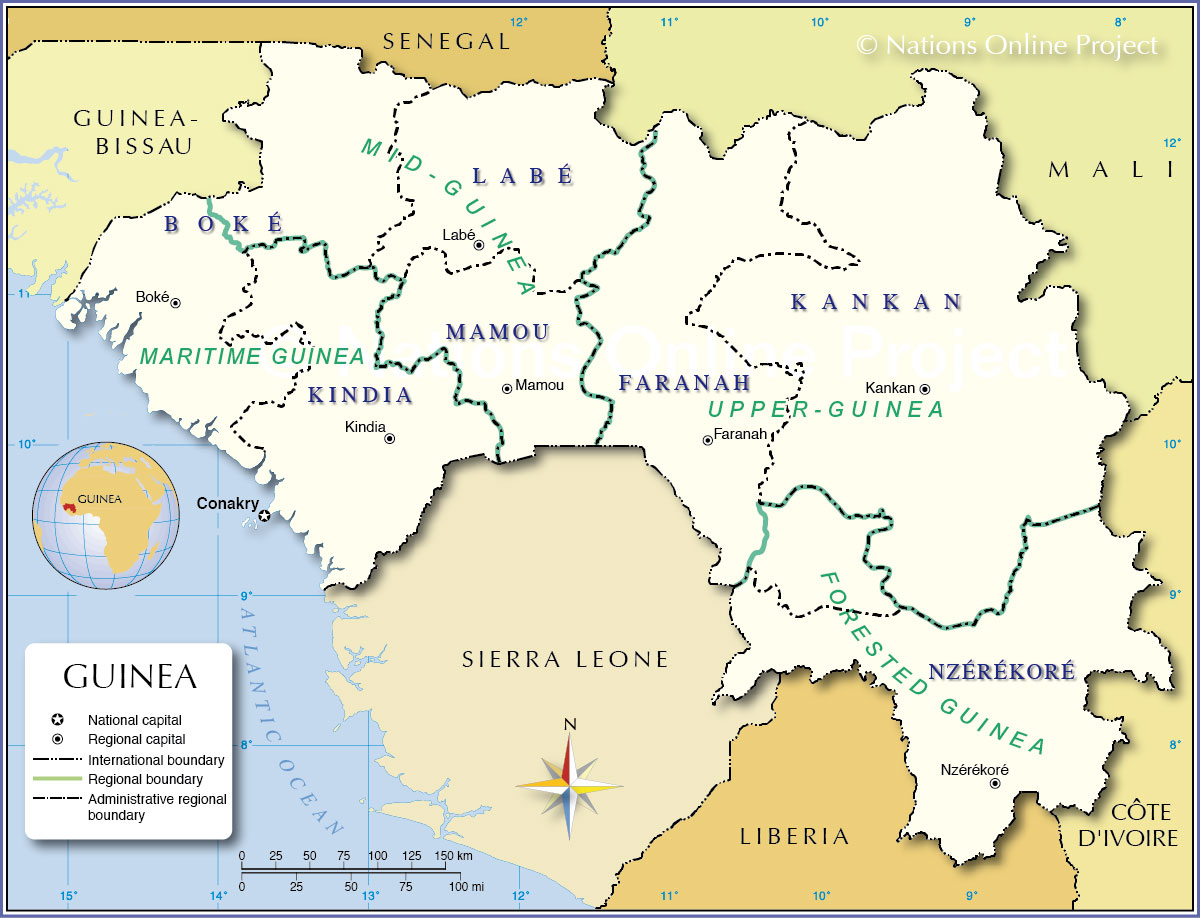 Papua New Guinea is located east of New Guinea, north of Australia, and there are many remote islands. The Indonesian province of West Papua (Irian Jaya) is located in the west. To the north and east are Manus, New Britain, New Ireland and Bougainville, all parts of Papua New Guinea. The mountainous interior is about a tenth larger than California, but was recently explored. The two main rivers Sepik and Fly are accessible via flat pontoons.
Equatorial Guinea Map
Equatorial Guinea begins in a narrow coastal plain surrounded by mangrove swamps. From there, the land rises to a high density forest, the highland plateau bordering on Gabon and (in some places) over 1,219 m (4,000 feet) above sea level. The main river Uola meanders through the central part of the country. The fertile offshore island of Bioko comes from volcanoes and is dominated by three extinct volcanoes. The coast is steep in the south, but the north coast has picturesque beaches and harbors. The highest point of Equatorial Guinea is the Pico Basile at 3,008 m altitude, the lowest point of the country is the Atlantic Ocean (0 m).
Gulf of Guinea Map
The Gulf of Guinea has a narrow continental shelf just 100 miles from Sierra Leone to Guinea Bissau. The Guinean current flowed over the north coast of the Gulf of Guinea. Its tropical waters are separated from the Kanat and Benguela Rivers by sharp coastal fronts across the Senegal and Congo Rivers.