Guatemala is a Central American country in the south of Mexico.
Total Area: 108,888 square kilometers 
Population: 16.91 million
Language: Spanish
<3h>Guatemala Map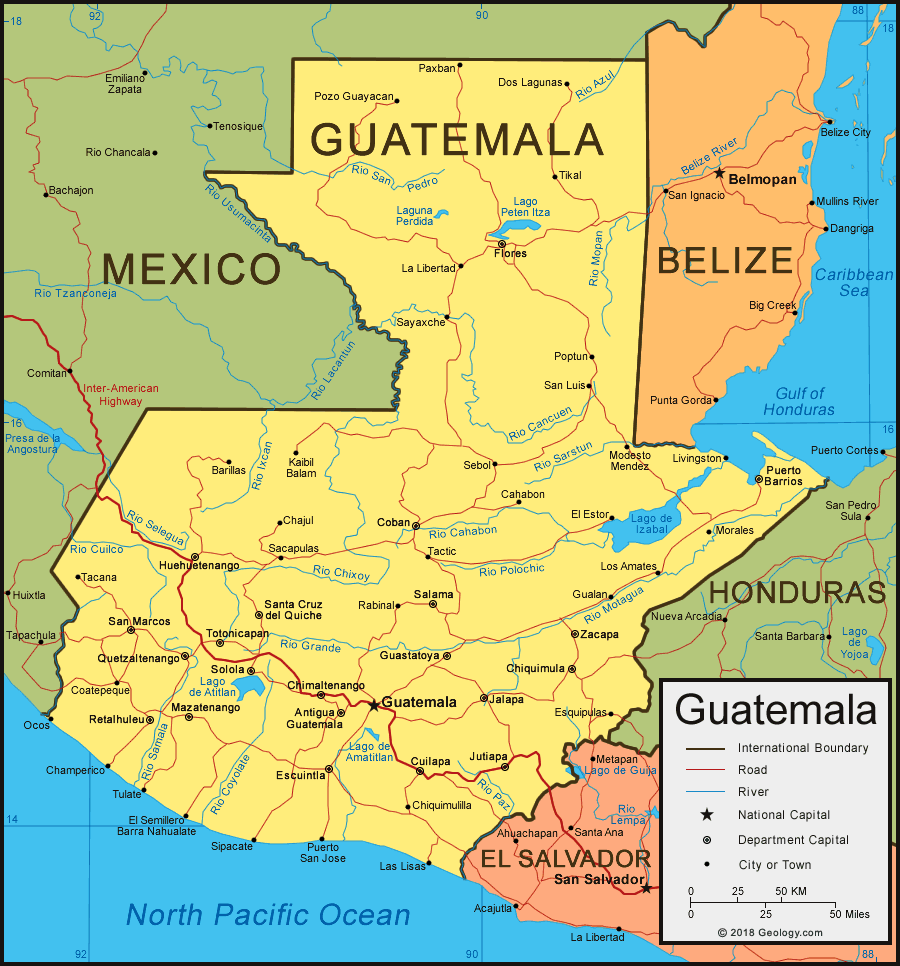 Guatemala is a country of volcanoes, mountains and beaches on the Caribbean. From the Kuchamatan Mountains in the western highlands to the shores of the Caribbean and the Pacific, this small country is characterized by a sharp contrast. Three of the 30 volcanoes in Guatemala are still active. The Pacaya volcano near Guatemala City is the most active volcano. Lake Atitlan was created when a volcanic explosion broke out 84,000 years ago and crashed into a crater. The lake is the deepest lake in Central America and is said to be 300 meters deep and 125 square kilometers in size. Guatemala is only slightly larger than the state of Tennessee and is a mountainous country in which one third of the population lives in cool plateau villages. The coastal plains are warm and humid. The country borders Mexico, Honduras, El Salvador and Belize.
Culture in Guatemala
The Mayan civilization is well advanced in mathematics and astronomy. The Maya can use hieroglyphs and whole words to develop the concept of zero and left writing records. Although historians were not sure why the Mayan empire collapsed, Mayan society began to shrink in the 10th century and split into various groups. They can be affected by overpopulation and drought. Mayan women continue to weave colorful fabrics and fashion with the same suit or suit their ancestors wear. More than half of the population is native. Among the 20 Mayans, Quiché is the largest group and lives near the city of Quetzaltenango.
Places to visit in Guatemala
Tikal is by far one of the most breathtaking Mayan sites in Latin America. Flores is a charming colonial town on a small island on the Peten Itza Lake. Most travelers have settled here as it is close to other attractions in Tikal and the surrounding area.