Gibraltar, the British overseas territory, is located on a narrow peninsula on the Mediterranean coast of southern Spain.
Total Area: 6.8 km?2;
Population: 34,571
Language: English 
Gibraltar Map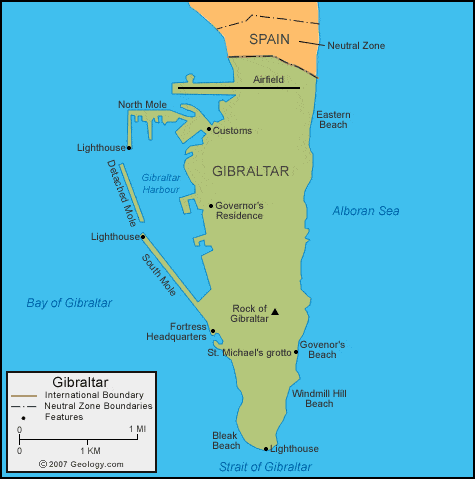 It is located on the northwestern side of the Gibraltar Rock and is one of the pillars that guard the northeastern edge of the Strait of Gibraltar and connect the Mediterranean to the Atlantic Ocean. To the north lies the Sierra Nevada and to the south the Atlas Mountains. All over Spain there was a dispute between the United Kingdom and the United Kingdom, and every dispute claims that the island is their own. However, the island is currently British territory and has been doing so since 1713.
Culture in Gibraltar
The culture of Gibraltar reflects the origins of the Gibraltarians. Although both Gibraltar and the United Kingdom are influenced by the United Kingdom and Spain, most Gibraltarians are British, Genoese, Maltese, Portuguese and Andalusian, since Gibraltar is a British Overseas Territory. The most important religion is Christianity, Roman Catholicism, followed by the Church of England. There is also a long-established Jewish community, a Hindu Indian community and a Moroccan Muslim population. In this respect, Gibraltar is unique because in such a small town several different religious groups live in harmony.
Places to visit in Gibraltar
The city of Gibraltar has many attractions that attract tourism in the country. Gibraltar is known for its Barbary macaques, the only wild monkeys in Europe. They are mainly found in the Gibraltar Nature Reserve in Upper Rocks, Gibraltar. St. Michael's Cave is the largest cave in Gibraltar and one of the most popular places on the island. The Gibraltar Museum and the Gibraltar Botanical Garden are also popular with tourists. Other attractions in the city include the huge siege tunnel, the Moorish castle and the Europe. Gibraltar is rich in culture and many people live on the rocks.