Angola Africa Map
Angola, a country in southwestern Africa. On Angola Map, It is a large country with a variety of landscapes, including the semi-desert Atlantic coast, which borders Namibia's coast, sparsely populated rainforest interior, southern highlands, northern Cabinda and densely populated areas of northern and central northern cities. The main and commercial center is Luanda, a major port city on the north coast that combines Portuguese colonial monuments, traditional African house style and modern industrial parks.
Angola Travel Map
At the dawn of the 21st century, Angola was a country suffering from war and the associated effects of landmines and malnutrition, whose livelihoods often depended on the international community. The country is rich in natural resources such as precious stones, metals and oil and is one of the countries with the highest oil production in sub-Saharan Africa. It is the largest and richest country in Portuguese-speaking Africa, and although Angola did not reach its limits until 1891, the Portuguese influence is more than 500 years old. The anti-colonial struggle that began in 1961 finally led to independence in 1975.
Angola Land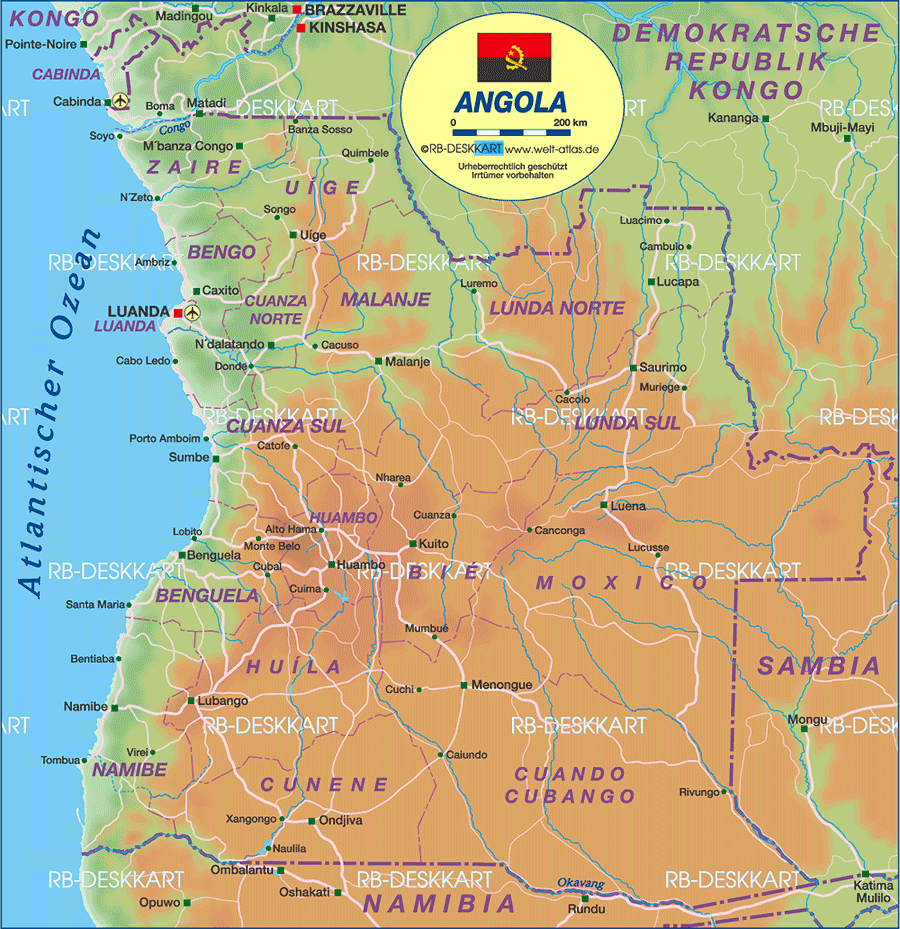 Angola is approximately square and has a maximum breadth of approximately 1300 km (800 miles), including the Cabinda plain, located on the Atlantic coast north of the Angolan-Democratic Republic of the Congo border. Angola is bordered by the Republic of Congo, is the northwest, borders the Democratic Republic of the Congo with the north and northeast, Zambia borders the southeast, Namibia borders the south and the Atlantic borders the west.
Language Used in Angola
Portuguese is the only official language and is referred to by 80% of the population as a primary or secondary language. The six languages most commonly used in Bantu: Umbundu, Kimbundu, Kikongo, Chokwe, Kwanyama are also known as Oshikwanyama and Ngangela. In addition, there are 42 local languages in Angola, one of which is Kwadi, there are no known speakers, and the other languages are Khoisan, not Bantu.
Angola Physical Map